1801_Cary_Map_of_the_East_Indies_and_Southeast_Asia_(_Singapore,_Borneo,_Sumatra,_Java,_Philippines_
1818 Pinkerton Map of the East Indies and Southeast Asia (Singapore, Borneo, Java, Sumatra, Thailand - Geographicus - EastIndiaIslands-pinkerton
jansson_east_indies_indiae-orientalis-nova-descriptio_1762
The map of East Indies from 1856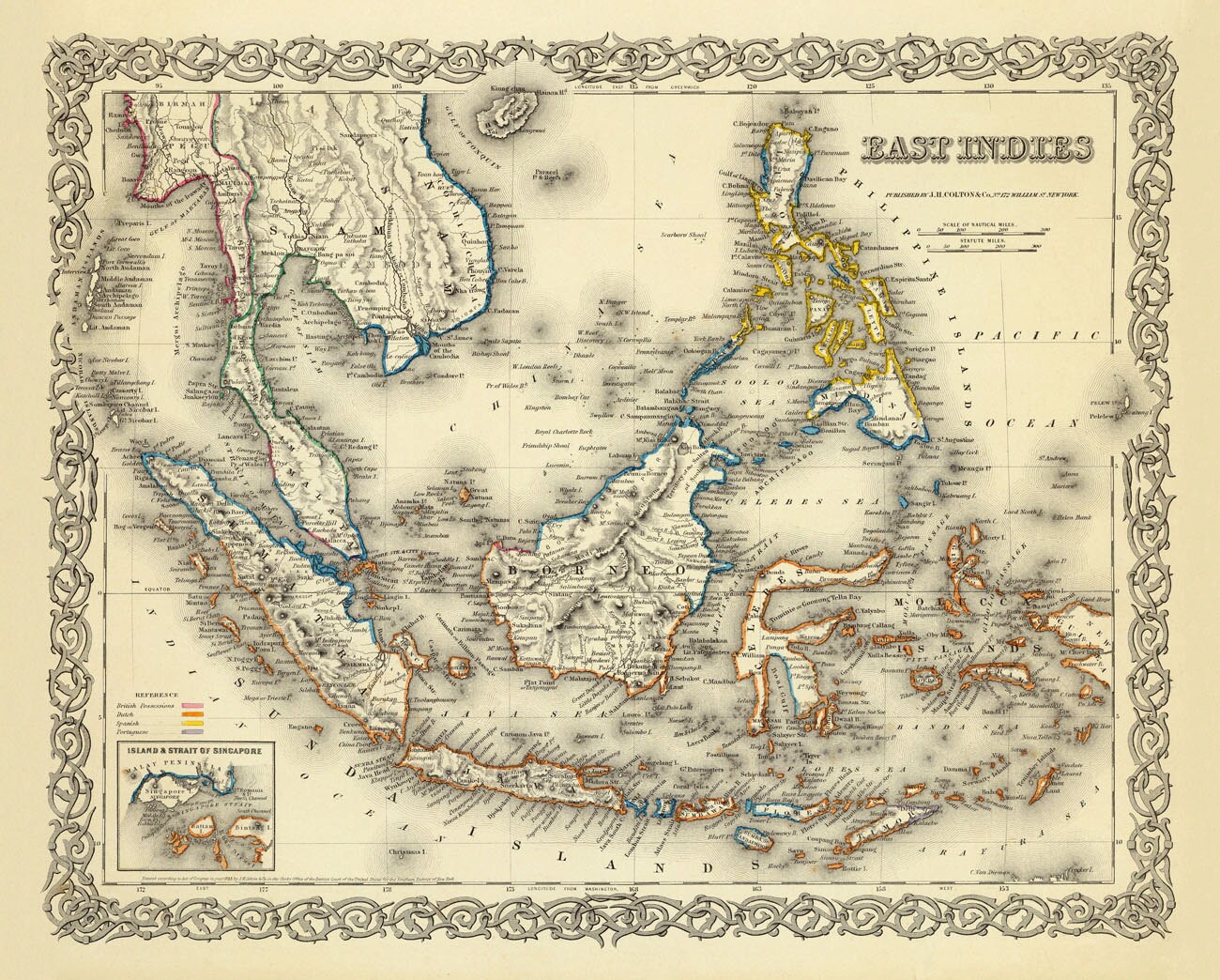 Raynal and Bonne Map of Southeast Asia and the Philippines - Geographicus - Philippines-bonne-1780
EastIndies1824
Map of India and Southeast Asia - Geographicus - India-levassuer-1852
IndochinaMalay-randmcnally-1895
1810 Tardieu Map of the East Indies, Singapore, Southeast Asia, Sumatra
Map of the Dutch East Indies in 1818
1770 Bonne Map of India, Southeast Asia ^ The East Indies (Thailand
1870 Johnson Map of Australia, the East Indies, and Southeast Asia
1842_Greenleaf_Map_of_the_East_Indies,_Borneo,_Java,_Sumatra,_Thailand,_Vietnam
The region that today identified as Indonesia was also referred in different names, such as "East Indies" in this 1855 map
map-east-indies-1827
south-east-asia-coronelli-1689
Mercator map of "India Orientalis", Amsterdam 1619
Map Asia Malaysia East Indies Thailand Original 1944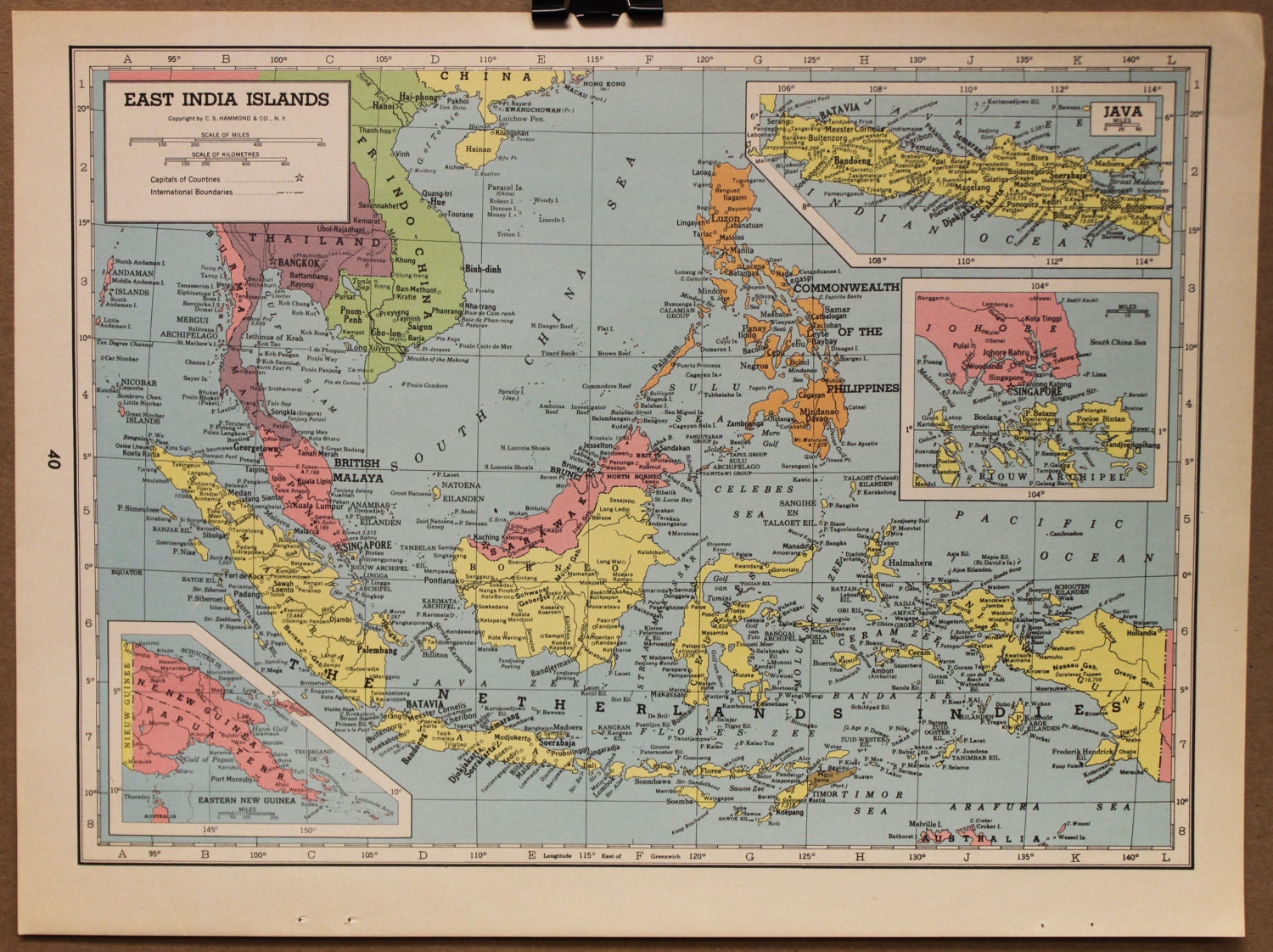 Dutch map of Southeast Asia from the 1720s
India Orientalis
Amsterdam, I.E. Cloppenburgh, 1632
india-orientalis-jansonnius-1638
1780 Raynal and Bonne Map of the East Indies (Singapore, Java,
Indias Occidentales (Madrid, 1601).
SOUTH EAST ASIA--THE DAVID PARRY COLLECTION
OF MAPS OF SOUTHEAST ASIA [15TH-19TH CENTURY]
SOUTHEAST ASIA, WALL-MAP--DANCKERTS, JUSTUS (I).
INDIA QUÆ ORIENTALIS DICITUR ET INSULÆ ADIACENTES. [SECOND TITLE] NIEUWE KAART VAN OOSTINDIE MET ALLE DESSELFS OMLEGGENDE EYLANDEN, &C. AMSTERDAM, [C.1710]
1790 Bonne Map of Southeast Asia,: La Presqu'Isle de l'Inde shows the Archipelago of the East Indies including Vietnam, Malaysia, Cambodia and Java.
South East Asia Map, 1787
Philips' Authentic Imperial Maps for Tourists & Travellers, East Indies, Malay, or East Indian Archipelago with Burma & Siam
-
Maker:
Philips
Antique colored folding map of the East Indies, Indonesia, Indochina, Thailand, Burma, the Malay Peninsula, Borneo, the Philippines, Sumatra, Java, Celebes. In green book like cover, overall fair to good condition, some foxing, water stains. Unfolded, map measures approx. 20 x 24 inches.
Price:
$60.00
Date:
1930
The East Indies; distinguishing the Empires and Kingdoms on the Continent commonly call'd India: By the Sr. Robert with Improvements.
London 1756
Copper engraving, hand colored. Published in London and engraved for the 'New Geographical Dictionary'. Engraved by G. Rollos. Decorative small map of the East Indies with the neighboring Sumatra and street of Malakka. 20 x 29,3
Charte von Ost-Indien - Nach den besten Huelfsmitteln verfast. - in Wien bey Tranquillo Mollo
Wien, Mollo 1827
Copper engraving, in contemporary original color in outline. Southeast Asia and India are divided up in political regions. The various countries are shown in outline color when published. Detailled map of Southeast Asia with the Indian Ocean and the neighbouring Chinese Sea. With many engraved names of cities, villages and smaller places. A good map of Southeast Asia, engraved after the newest cartographic scources. 32,5 x 44,7
Carte des Royaumes de Siam, de Tunquin, Pegu, Ava, Aracan &. Pour Servir a l`Histoire Generale des Voyages.
Paris, N. Bellin 1760
Copper engraving, hand colored in outline and wash. 272 by 276mm (10¾ by 10¾ inches).
In excellent condition.
Inde - Indien
Frankfurt, 1719
Copper-engraving, handcolored in wash and outline. Decorative engraved map showing the Indian Ocean with the Indian subcontinent, as well the neighbouring countries, the Maldives and the Sunda islands. ca. 15 x 11
Inde Ancienne A L Orient Du Gange. - Dass Alte Indien gegen Orient des Flusses Ganges.
Frankfurt, 1719
Copper-engraving, handcolored in wash and outline. Decorative engraved map showing Burma and Thailand with its neighbouring countries Laos and the Malay peninsula. ca. 15 x 11
Erythraei Sive Rubri Maris Periplus. Olim Ab Arriano Descriptus Nunc Vero Ab. Abrah. Ortelio Ex Eodem Delineatus.
Amsterdam, Janssonius Joan. 1662
Copper-engraving, decorative handcolored in outline and wash. Published in a Dutch text edition of J. Jansson's historical Atlas. This antique map of the Indian Ocean, extending from the Red Sea towards Southeast Asia, was engraved and published by J. Janssonius after the cartographical sources by Abraham Ortelius, who published a similar map in his 'Parergon' 1612 for the first time. The title cartouche we find in the upper centre, ornated with two circular insets: 'Annonis Periplus' and the North Polar region. In the lower bottom is an extensive text cartouche. 39 x 46,5
A new general map of the East Indies : exhibiting in the Peninsula on this side of the Ganges, or Hindoostan, the several partitions of the Mogul's Empire ; and the dominions of the English East India Company in the provinces of Bengal, Bahar, Orixa, as well as upon the coasts of Malabar and Coromandel ; with the French and Dutch possessions according to the peace of 1783 : and in the peninsula beyond the Ganges, the kingdoms of Assam, Cashar, Aua, Aracan, Mien, Pegu, Siam, Lao and Cambodia, &c. /
Antique Maps Of The East Indies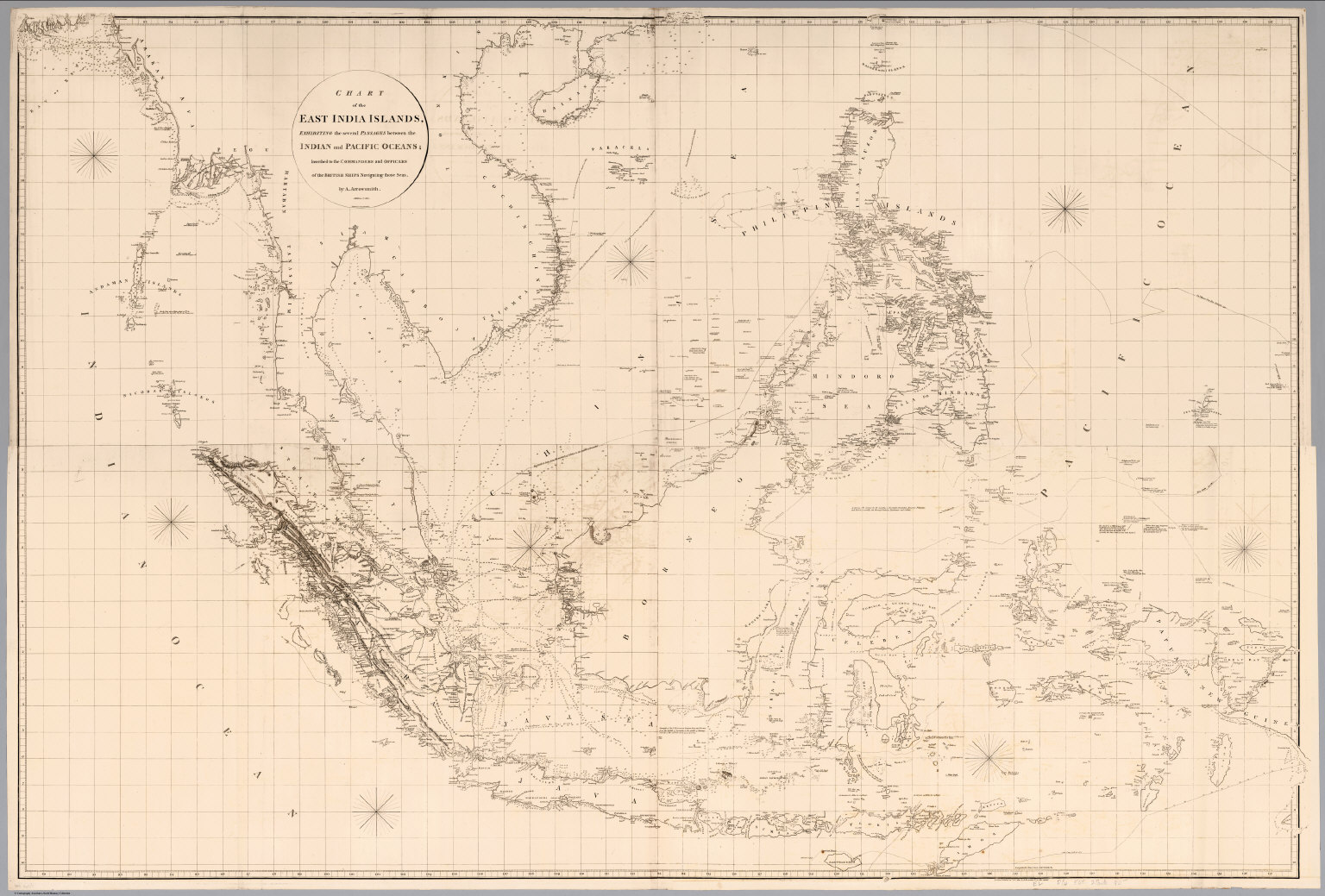 Historical Map of Asia (1892)
speed_southeast_asia-a-new-map-of-east-india_1500
East Indies 1801 shows present day Southeast Asia, Indonesia and the Philippines
East Indies World Map East indies early european-
map-east-indies-1580
Wilkinson, Robert
The Islands of the East Indi …
1806
1746 Bellin map: SE Asia, China, Japan, Korea and Philippines plus Marianas
Map of East Indies Islands
1639 India quae Orientalis dicitur
The Principal Islands of the East-Indies. - Explaining what belongs to England, Spain and Holland &c. - By H. Moll Geographer.
London, Th. Bowles and John Bowles 1736
Copper engraving, decorative handcolored in outline. Small wide and decorative map showing the East Indies in Southeast Asia explaining what belongs to England, Spain and Holland. The map provides a good number of names of various larger and smaller islands and place names on those islands. The Geographer Hermann Moll worked came originally from the Netherlands and worked in London in the beginning for Moses Pitt. Later he became one of the important map publishers in England. The atlases, which he published were widely well known. He engraved as well maps for other English publishers (John Seller, etc.) . 197 by 270mm (7¾ by 10¾ inches).
1650 Royaume d'Annan comprenant les royaumes de Tumkin et de la Cochinchine
Pierre Mariette: Royaume d'Annan Comprenant les Royaumes de Tumkin et de la Cocinchine Designe par les Peres de la Compagnie de Iesus .
Old map of Vietnam by Alexandre de Rhodes (1591-1660)
Southeast Asia
Title: Indiae Orientalis Insularumque Adiacientium Typus.
Cartographer: Ortelius, Abraham
| | |
| --- | --- |
| Published: Antwerp, Christopher Platin, | Date: 1598 |
| Size: [34,7 x 49,6 cm] | Technique: Copper engraving probably later handcolo |
eastindies1725
Map Exercise

[

Here Sivenji notes this "renegade " Jaon was Sawano Chuan (1571–1649), previously a Jesuit. He had come to Japan as Christavao Ferreira, S.J. (Society of Jesus, i.e. a Jesuit) in 1609 and served until 1632 as the head of a monastery. Caught in 1633 in Nagasaki, he was tortured by his persecutors until he abandoned his faith, thus becoming an apostat.e

]

Thanks to the work of Gerald Danvers and others there are now new and more productive ways of using maps to examine world historical processes. However any map of Asia can be employed to direct students to the "country trade," the means by which Europeans acted as transporters of the merchandise of Asian trading nations. The Dutch trade with Deshima was a classic example of this trade, which enabled the Dutch, who could not otherwise afford much trade due to the lack of domestic goods that were desirable in Asia, to buy cheap goods elsewhere in Asia and trade them at Deshima for Japanese silver in excess of the cost of the original trade item. The profits in silver could be repatriated to Holland or used to purchase otherwise costly items in Asia where silver, unlike merchandise from Holland, was in demand. The Casteneda collection at the University of Texas provides a host of free maps tracing this trade. See, for example,
asia_mediaeval_commerce
An elaborate map of the British Empire in 1886, marked in the traditional colour for imperial British dominions on maps
(South East Asia ) Gerard Mercator. "India Orientalis." Amsterdam, c. 1608
1603 (1570) ORTELIUS SOUTHEAST ASIA "Indiae Orientalis"
Historical Map of Asia (1914)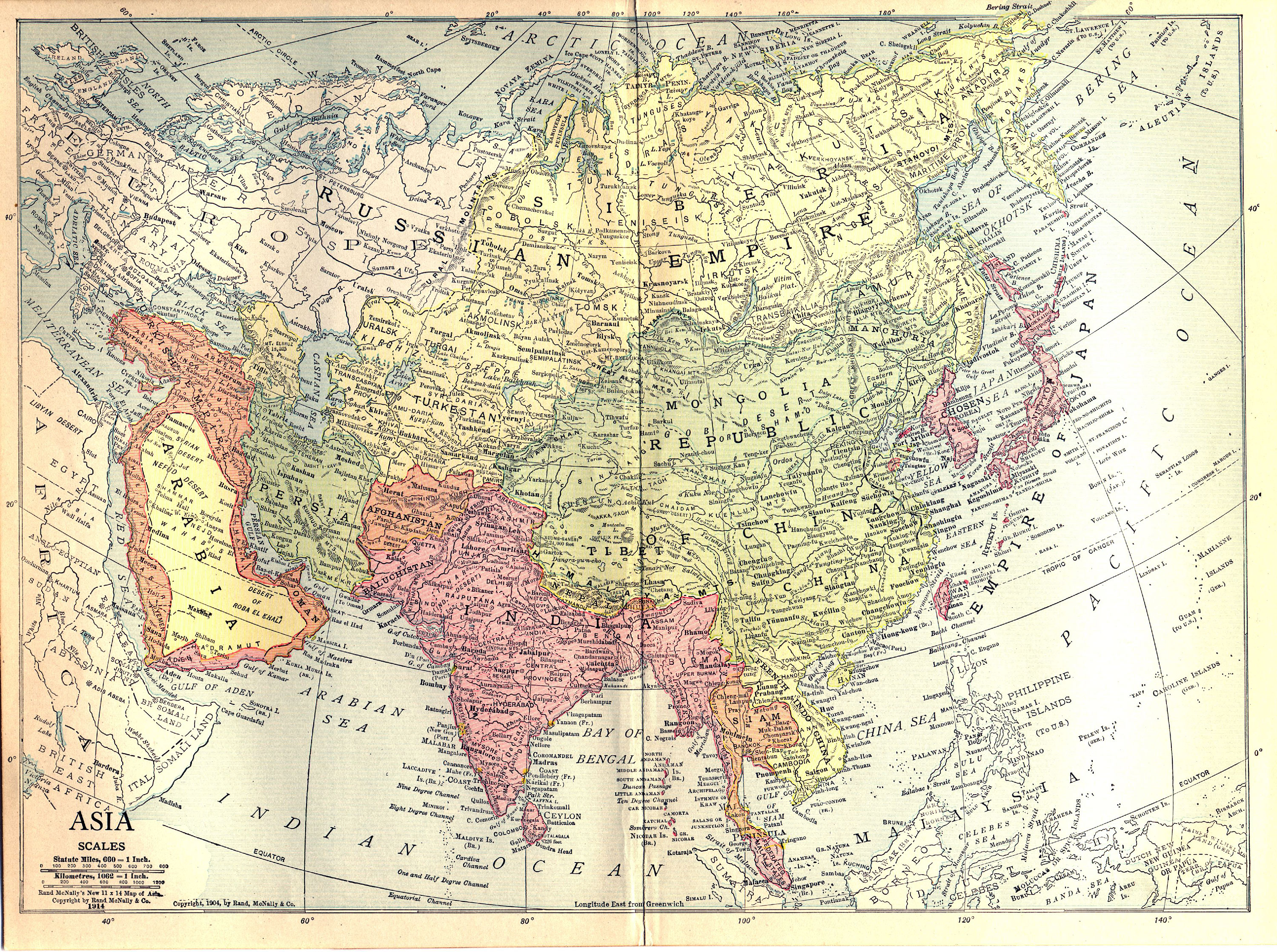 East India Isles and Australia - David Rumsey Historical Map
INDIAN OCEAN GENERAL
East Indies
Title: The East Indies; distinguishing the Empires and Kingdoms on the Continent commonly call'd India: By the Sr. Robert with Improvements.
Cartographer: [G. Rollos]
| | |
| --- | --- |
| Published: London | Date: 1756 |
| Size: [20 x 29,3 cm] | Technique: Copper engraving / later hand color |
Date :
Short Title :
Publisher :
Publisher Location :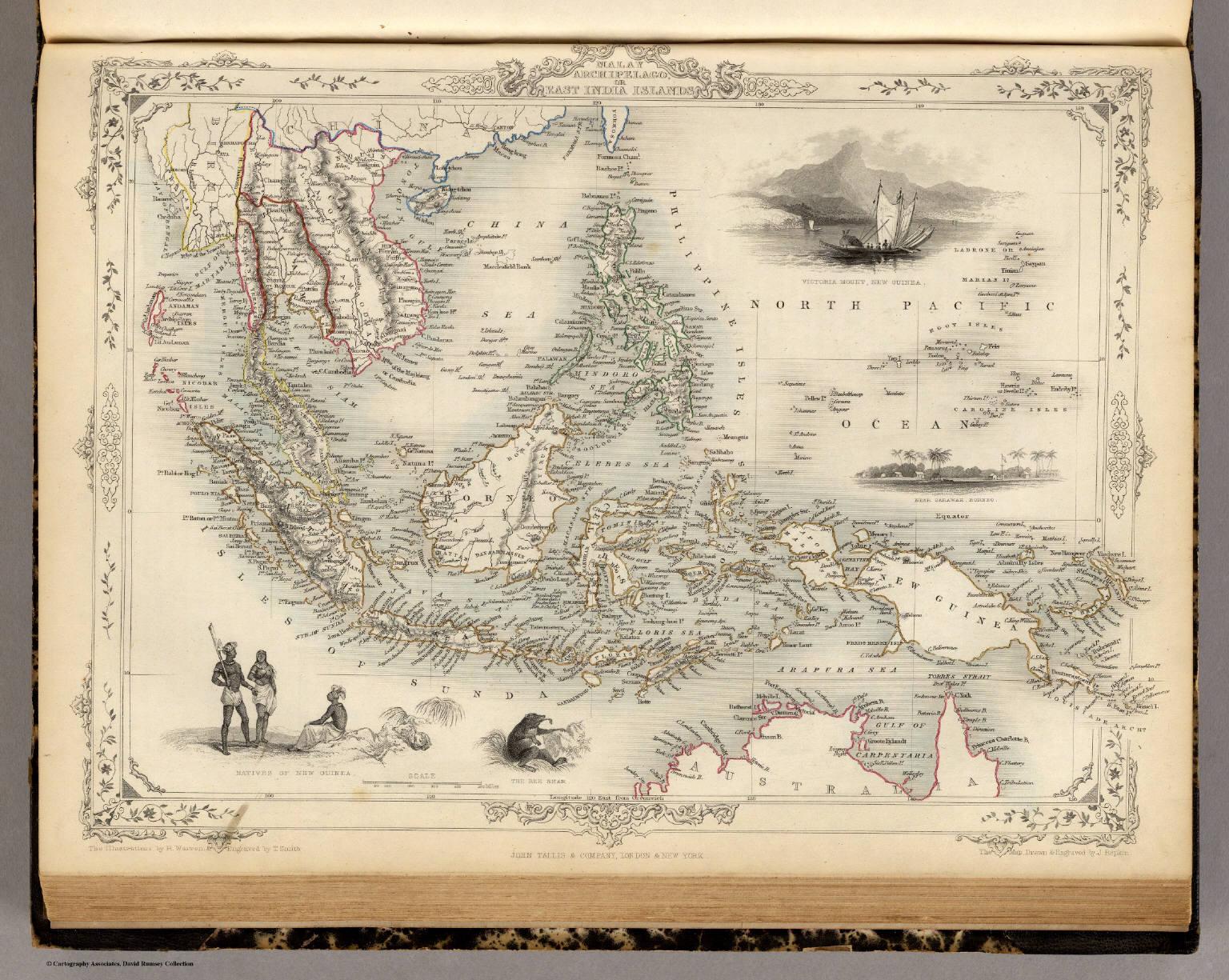 HKUST (Hong Kong University of Science and Technology) Antique Maps collection. Mostly China but Asia in general also. Cannot copy most samples, ...
1861
Asia
Title: Asiae Nova Descriptio.
Cartographer: Ortelius, Abraham
| | |
| --- | --- |
| Published: Antwerp, Christopher Platin | Date: 1598 |
| Size: [37,4 x 48,8 cm] | Technique: Copper engraving handcolored |
Remarks: Cofta de Pracel has belonged to Cochinchina
2 Indes, Petrus Placius, 1594. This example was published by J. Vischer, 1617
Thomas Suarez "Early Mapping of Southeast Asia" Periplus Editions (HK),Ltd., Hongkong, 1999, p.174
Small Map of Malaysia Philippines Map, Borneo Map (Asian Map Decor, Early 1900s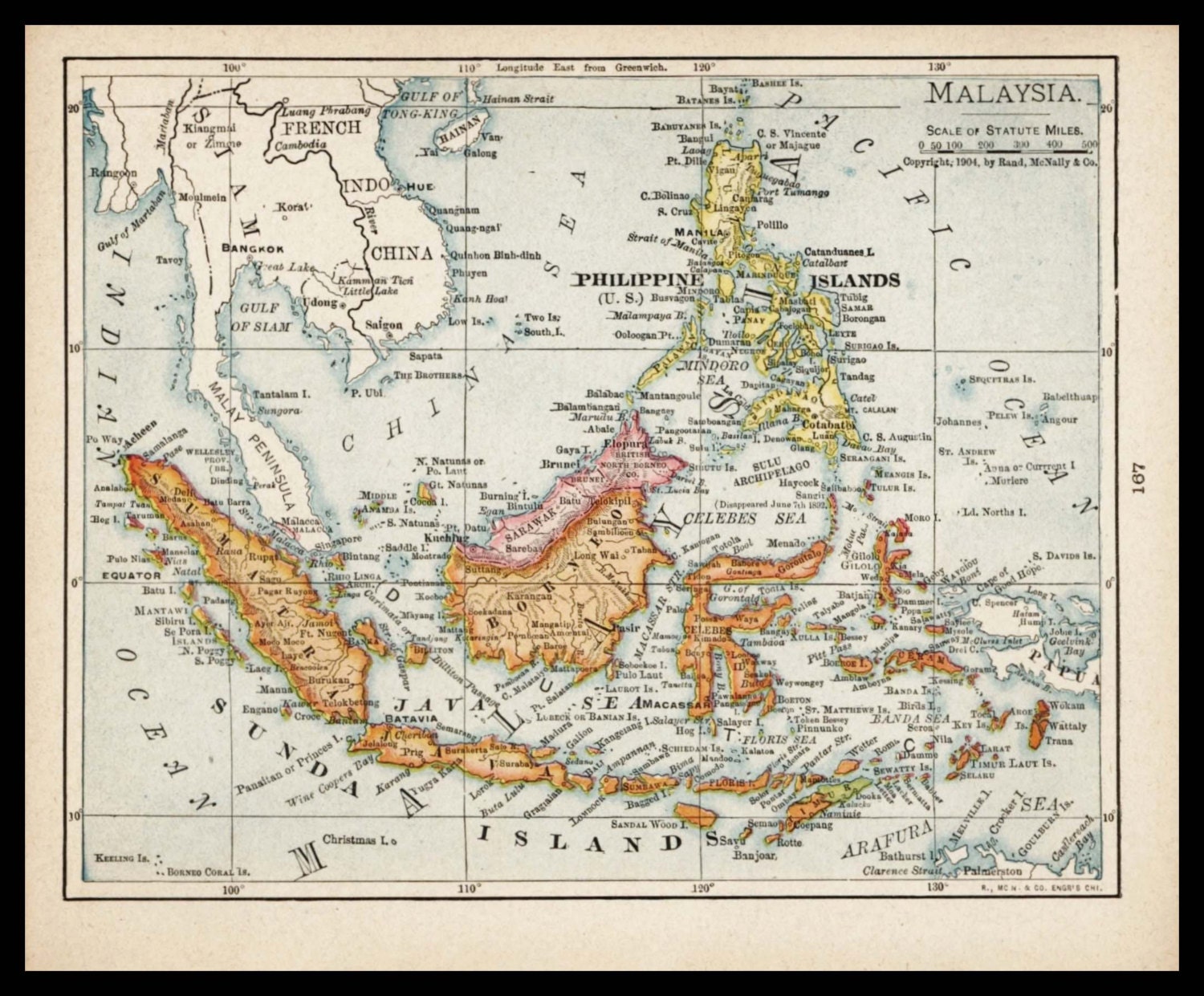 port_colonies_asia_1498